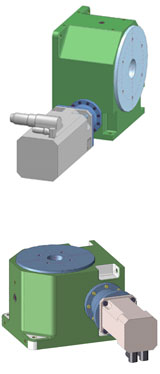 The standard Rotary Table that provides you best value for money without sacrificing performance and accuracy.
If you need a standard Rotary Table without all the bells and whistles the eco series is your choice. The eco range is universally usable with horizontal and with vertical turning axes.
Two sizes are available:
ecoTG 160 and ecoTG 220.
Optimal Price performance ratio
Highest rigidity to bear machining forces
Useable with vertical and horizontal turning axis
Standard face plate for varied modifications made by the customer
Worm gear kit with adjustable clearance and pre stressed roller seating
Drive prepared for SIEMENS- / FANUC- and MITSUBISHI-Servomotors
| | | | |
| --- | --- | --- | --- |
| | | ecoTG 160 | ecoTG 220 |
| Recommended face plate diameter | [mm] | 220 - 280 | 310 - 400 |
| Centre height | [mm] | 160 | 220 |
| Load with vertical axis | [kg] | 400 | 650 |
| Load with horizontal axis | [kg] | 200 | 350 |
| Load with horizontal axis + counter bearing | [kg] | 400 | 650 |
| Speed | [min-1] | 30 | 25 |
| Tilting moment | [Nm] | 1.000 | 2.000 |
| Position accuracy | [arc sec] | ± 30 | ± 25 |
| Run out | [mm] | 0,05 | 0,05 |
| Face plate wobble | [mm] | 0,05 | 0,05 |
| L – Length | [mm] | 218 | 230 |
| B – Width | [mm] | 240 | 320 |
| H – Total height | [mm] | 280 | 380 |
| F –Ø Basic Face plate diameter | [mm] | 220 | 310 |
| | | | |